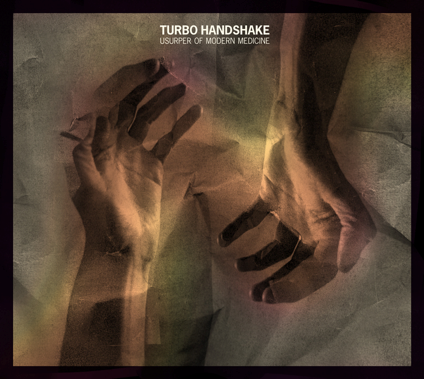 TURBO HANDSHAKE(EP)
FOR IMMEDIATE RELEASE
HEARTLESS ROBOT PRODUCTIONS HRP020
Available online and in stores
16th APRIL 2012
Preview track 'Pigeon Religion' on Soundcloud
http://soundcloud.com/usurperofmodernmedicine/pigeon-religion

Do we silently suffer in the modern condition? A continuous deluge of uppers, downers, enhancers and inhibitors govern our lives at every opportunity. A world fuelled by bureaucratic decisions and soulless promises. A turbo handshake for the salt of the earth. The hands that shape our world, how carelessly fast they act. Apply a sonic cure, a wake up call, to maintain our identity and remain aware of ourselves, less we be doped, crushed, discarded and swept away.
"It is quite wonderful to hear a band out of Perth that is not indie, psychedelic or would-be pop superstars. Instead we get a band that is soulful, driving and, above all, different. This is Holy Fuck from the western side of Australia." Life is Noise
Turbo Handshake is the second record from Usurper of Modern Medicine. The next instalment in their pair of EP's, the counterpart to 2011's celebrated debut Acid Chess. Continuing to explore heavy driving rhythms and hypnotic grooves with more experimentation into live signal processing including intense vocal resampling and dynamic looping, Turbo Handshake is a step forward into new complex sonic territory while still maintaining the swagger and intensity of their debut. Following the release of Acid Chess, Usurper has toured Japan and New Zealand, opened for acts including Mono (Jpn), Holy Fuck(Can) and Seekae and performed at the 2012 Camp a Low Hum festival in Wellington, NZ. The EP features four original tracks including  'Pigeon Religion'and 'I Am the Panopticon' and four exclusive remixes from artists including AxxOnn, Naik, Ylem and more. 
Reactions to 'Acid Chess' EP
"It would be too easy to pigeonhole Usurper of Modern Medicine as a post rock band, but the would be to sell short what they have achieved on Acid Chess. The four originals here are a diverse mix of propulsive energy and electronic shenanigans that tear away at the inside of your skull and keep your heart beating all in one" XPress Magazine May 2011
"Being touted these days as WA's answer to Holy Fuck, Usurper have dropped an epic experiment in electronic and rhythm/guitar soundscapes. Living up to the hype they have garnered over the last few months, Acid Chess builds on solid bass lines and atmospheric feedback to form rolling, unyielding tracks." EP of the Week, Drum May 2011

USURPER OF MODERN MEDICINE is Steven Aaron Hughes (bass, vocals), Cameron Hines (drums) and Cameron George (laptop, keyboards, re-sampling).
'TURBO HANDSHAKE' EP TRACKLISTING


1. Quadruple Dragon
2. Pigeon Religion
3. I Am the Panopticon
4. Steak Rainbow
5. Steak Rainbow (Usurper Remix)
6. I Am the Panopticon (Ylem Remix)
7. Pigeon Religion (Naik Remix)
8. Quadruple Dragon (AxxOnn Remix)

Available on CD / Digital on Heartless Robot Productions April 16th 2012


PERTH LAUNCH EVENT
SATURDAY 14th APRIL
THE BAKERY, NORTHBRIDGE
233 James St, Northbridge
with guests ABSOLUTE BOYS (Melbourne), FRENCH ROCKETS, NAIK and DJ JO LETTENMAIER
Pre-Sale tickets at nowbaking.com.au
$12+bf presale / 8pm - 2am
usurperofmodernmedicine@gmail.com | usurperofmodernmedicine.com  www.heartlessrobotproductions.com
—-
1 Notes
mixedsignalstudio likes this
heartlessrobotproductions posted this